$9.99 + $3.60 shipping

Get the Ebook
ISBN: 1589826574 (1-58982-657-4)
Read Darla Isackson's Review on "Meridian Magazine"
A tale of tragedy and healing, Kory takes us to the emotional state where our deepest fears lie the death of a beloved child and brings to life the beauty of eternal families and their unity. --Matt Lopez, band member, Due West
Kory is a riveting and brilliantly woven account of a mother s love for her child that reaches beyond the grave and into the realms of the world hereafter. It is sure to bring solace to any wounded spirit healing from the death of a loved one. --Cardin McKinney Lopez, singer/songwriter, actress/model

In today's world, death is viewed as a mysterious frightening void. We have little knowledge of what happens when we die. Death frightens people because we are afraid of things that we do not understand. We are afraid of the dark because we cannot see what is there…but turn on a light and we see with clarity and the fear subsides. It is the same when we are navigating the grief process. We have lost someone we love and it is like peering into the darkness. I have seen and heard the light from the world beyond death. I would love to share with you the things that I have personally gained by a miraculous gift.
I do not claim to have any special abilities. I lost my son Kory at Christmas in a tragic accident, but miraculously I was given a divine gift, communication with him, and only him.
The book Kory is about the actual events surrounding my son's death and through our communications, his experiences in the spirit world. From that knowledge, I wove a story that reassures us that our loved ones that have past on from this life are still very much alive in their spirit form. They are happy and busy and involved with our lives. They, as occasion permits, attend us in times of need as our guardian angels.
This book was written to give comfort and explain the next adventure that awaits us all. It is a story of hope…that light in the darkness… that we are never left alone in our trials.
If you purchase the book from my website, I will be glad to sign the book and include a special insert with pictures and information about my son Kory.
After you have read Kory, I would love to hear from you. It would be great if you would add your comments to my comment wall.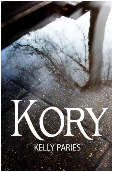 $9.99 + $3.60 shipping

Get the Ebook
ISBN: 1589826574 (1-58982-657-4)
Articles about Kelly and the Book